TS-7002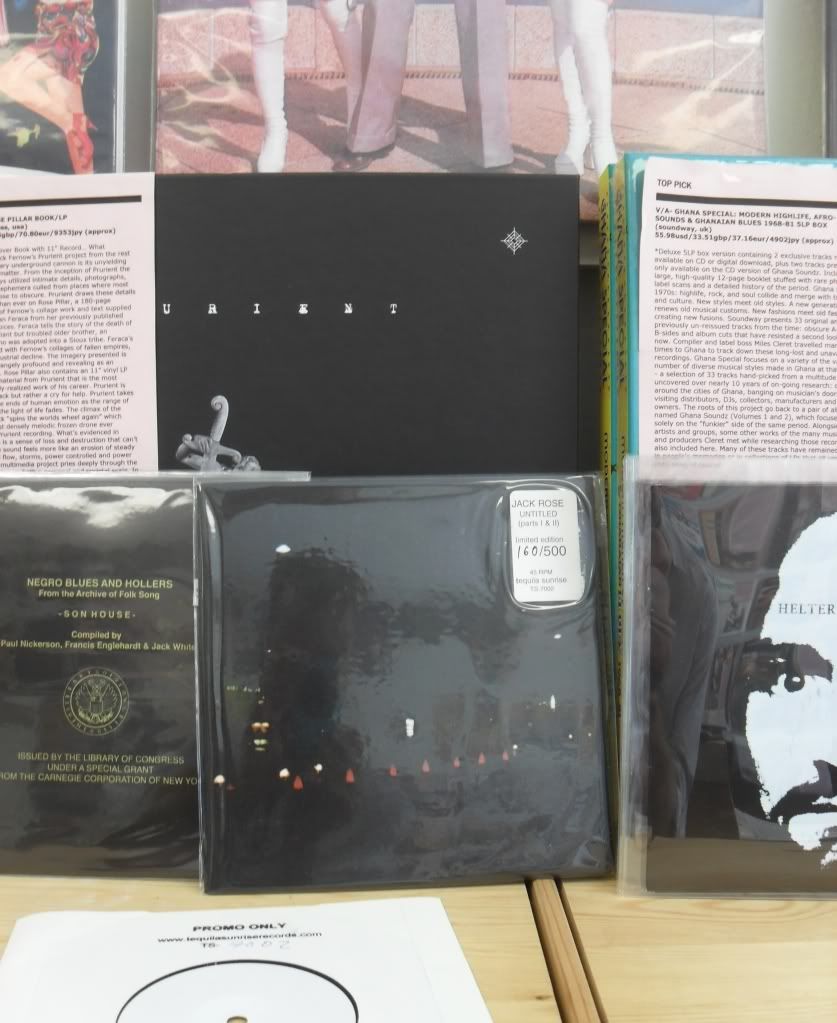 JACK ROSE UNTITLED: PARTS 1 & 2 7" (2006)
*numbered/limited edition of 500.
Philadelphia in 2006 is a funny place. With every season, it seems, a new busload of young pups appear on the streets of Fishtown with their Martin guitars slung over their shoulders, their iPods stuffed with This Is the Wind That Blows It Out, Dark Noontime and Raag Manifestos, and their heads full of expectations. One of their destinations is Kensington, where Jack Rose lives. But they quickly find that the gritty, working-class Kensington is a bit disappointing, not as dangerous as they'd hoped and even on the verge of gentrification.
Great artists, however, use audience expectations as a tool of their craft. Lou Reed's follow up to the arena-rock smash Rock 'n' Roll Animal was the astonishing Metal Machine Music. The Aztecs once flattered the king of a rival tribe, the Culhuacan, by asking him to allow them to make his daughter a goddess. He thought that meant she would be married to their Huey Tlatoani until, as part of the ritual during the feast, Aztec priests emerged dressed in her flayed skin. As Sam Walton said, high expectations are the key to everything.
Now, we're not saying that this new Jack Rose 7" is like Metal Machine Music (or even Sally Can't Dance), nor will it transform your daughter into the goddess Yaocihuatl. On the other hand, if you're expecting Kensington Blues, you'll find that Jack is light-years ahead of us all. It's a live improvisation that starts with an atonal face-slap and spirals ever deeper into dissonant darkness, propelled, apparently, by an irksome and chatty crowd (which afterwards got a double dose of angry Jack, a gem of vituperation that may appear on a later release).
Jack Rose, Untitled: Parts 1 and 2, on Tequila Sunrise Records.
Recorded in London, on the day 8-Reed, in the month of Death, in the year 6-House.
REVIEWS
ROLAND WOODBE/SILTBLOG
Did I Mention Charlie Nothing?.....Jack Rose's 'Untitled I & II' 7" ep

When I got this record I must've stared at it for what seemed like an eternity. That's 'cause I was catapulted via flashbacks to past life experiences (of my own doin). Immediately I was reminded of that Ike Yard 'Night After Night' ep from the early 80's. Remember it? That was some minimalist electro-synth action for sure. Then my brain got to spinnin like a blender full've daiquiri & as I opened my eyes I felt like I was holdin the Gordons 'Future Shock' ep again, circa, back in the old days. What a pounder that one was! A 1st rate shit kicker. And yet nobody knew. Emmitt, the one-legged mushroom forager that get's me my Morels had a look at it & said it reminded him of Flying Saucer Attack. Not the band either! So I stabbed him. Ha! Just kidding (actually, he fell on the knife, but he claims I pushed him. Good luck w/that one Emmitt! It'll never hold up in court). Basically what I'm sayin is cover's like this one-w/blurred urban landscapes or UFO's zippin around or whatever-hold a certain mystique. You assume the bands what's represented by said artwork can morph 'n cloak at a moment's notice & maybe that's true. But if you don't need to, why bother? Like 'Night After Night' & 'Future Shock', w/'Untitled I & II you get what you get. No masks, no capes, the energy emitted is strictly skin + steel. It just feels super powerful 'cause it already is. Jack Rose's abilities as a string bender precede him & w/good reason. On this ep his opening timbre is august, his chords channeling the wind like an Anemoi, gusting across both sides at a spirited & soothing pace. It's as warm & welcome as a June rain. Folk's is always comparin Jack to sombody, but I forget who. Is it Rick Ruskin? I don't think so. Cal Hand? That don't sound right. Tut Taylor? Could be. Colin Winsky? Are you kiddin? Whoever it is, I believe it's about time said comparison took a nap. Jack Rose is sittin in the catbird seat on his own & it's a fine spot to pick a guitar as well as a nice vantage to check out all the bother. Wait a minute, is it Rollo Smith? Nope. Shit! It'll come to me one of these days. In the meantime, check out this ep via http://www.tequilasunriserecords.com/ it's a #rd edition of 500 & sure to be gone before you can say 'Mike Condello' (that ain't it neither).